A Quick Guide to Atlanta's Haunted Houses
What frightens you the most? Is it phantoms draped in blood-soaked clothing, clamoring for your life juices and organs? Is it gruesome gargoyles, zombies and demonic figures jumping out from the shadows to greet you? Is it the buzz of chainsaws, rusty mill equipment and screams of ghouls in the night?
The season of frights and freaky sights is upon us, and people seeking the thrill of a good scare will surely be able to get their fill this month.
Numerous haunted houses are up and running all around the Atlanta area, and the rest of Georgia. Take a look below for the low down on some of what Atlanta has to offer this year.
Netherworld is Atlanta's premiere haunted house. This year, it's pulled up stakes to a new location in Stone Mountain, under new management. Netherworld promises uniquely frightening experiences for Atlantans and those in the city during October and early November.
Attendees will scream in fright while being ambushed in close corridors by the likes of mummified corpses and extraterrestrial beings. Expect to be confronted by residents looking like they belong to an insane asylum, ghouls and giant robots wielding buzz saws.
Featuring two unique haunted houses with over 100 trained actors as zombies, ghouls and more otherworldly creatures, Netherworld is back and bigger than ever!
The first haunted house, The Awakened, will have you traveling through the town of Whyshburg and the haunted Colber Mansion. Prepare to make your way past "The Awakened's" residents, three-eyed once dead citizens, feral "Bone-Gnawers," and more creatures of the undead. As you trek through cemeteries and the Forbidden City, you will confront and discover the origins of The Awakened, if you have the guts!
Netherworld's second haunted house, Subject: Unknown, takes place in a research facility known as the BOX, where experiments on extraterrestrial and virus infected beings have gone awry, and they have broken free and roam about. You will witness alien autopsies, cloned prehistoric beasts and even take a ride in "The Elevator of Doom" as this horror science-fiction attraction gnaws away at your sanity!
This week, leading up to November 4th, Netherworld will have extended hours to accommodate the large crowds that are expected. You can pay extra to get a "fast pass" and jump to the front of the line.
Price: $23 for The Awakened | $28 to visit Awakened + Subject Unknown | $55 for a Speed Pass
Hours of Operation: Sunday – Thursday: 7:30 p.m. – 10:30 p.m. | Friday – Saturday: 7:00 p.m. – 12:00 a.m.
Dates: October 5th until November 4th.
ATL Dead
The ATL Dead attraction has been a staple in the DC area and in Oklahoma City. This year, it also comes to Atlanta.
"The undead have taken over the "A" and only one outpost remains, " from the ATL Dead website. "Teams of up to 6, armed with foam dart guns, will fight their way through an abandoned storefront in search of a vaccine that could rid humanity from the infection. Will you survive long enough to save the city? One part haunted house, one part immersive theatre, and one part live action video game, this 45 minute adventure is recommended for brave souls 10 years of age and up. Flat closed toe shoes are recommended."
Described in reviews as "a realistic Resident Evil," or like being in "an episode of The Walking Dead," ATL Dead brings a more interactive experience to the haunted house arena.
This haunted house will have attendees climbing ladders, firing Nerf and other foam guns for zombie tagging, cooperation and team involvement. Flat closed-toed shoes are recommended. This is a cooperative experience that the whole family can enjoy.
Price: $30 – 35
Hours of Operation: 7 p.m. – 11 p.m. / Sundays 2 p.m. – 5 p.m.
Dates: October 11th – November 3rd.
*Children under 16 must be accompanied by an adult or guardian.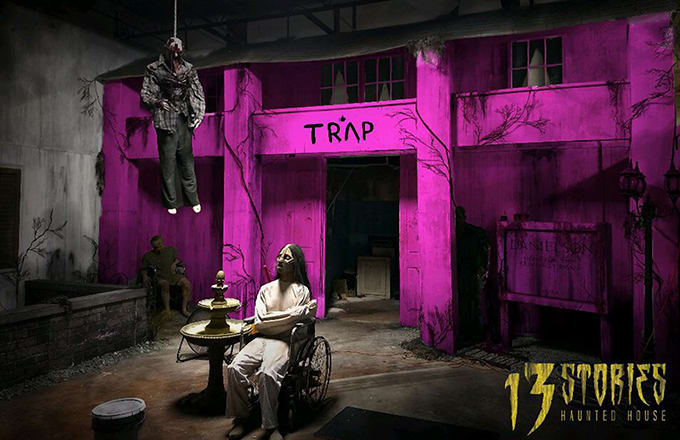 The legendary 13 Stories is one of the few haunted houses in Georgia where, each year, it is required for patrons to sign a "waiver" upon entry. Monsters and creatures are allowed to "torment you mentally and physically" describes the 13 Stories' website. The often talked about haunted house on social media is teaming up with rapper 2 Chainz' "Pink Trap House" to bring you "The Haunted Pink Trap House." 13 Stories will feature 3 haunted houses this year. To complete all three takes about an hour.
The Haunt – The traditional 13 Stories haunted house returns this year with a hip-hop themed vibe that will emulate scenes from 80s and 90s urban classic films. Expect horror meets retro film entertainment.
Apocalypse Zombie Kill Experience – This attraction is an interactive zombie killing experience. Becoming increasingly popular across the nation, in this type of experience, you will be given a gun (in this case, an M4 rifle with 150 rounds), and will be tasked with eliminating the zombies populating a deserted wasteland. Think you, inside The Walking Dead with elements of first-person shooter video games.
The Sacrifice (Waiver required) – Unlike other haunted houses, this house requires signature of a waiver to accentuate the level of terror 13 Stories promises to bring. Creatures and denizens of the undead world will scare you, touch you and torment you from start to finish. Certain sections of the house must be completed alone. Strobe lights, smoke, loud noises and alarms, electric shock, water and animals are all potential methods of freaking you out. Gory scenes and lifelike violence may be portrayed. (Adults and children have been known to not make it through the entirety of the event!)
Price: Tickets range from $15 to $51, depending on how many houses you want to go in | $77 for VIP Access Fast Pass.
Hours of Operation: Weekdays 7:00 pm – 11:00 p.m. | Weekends 7:00 p.m. – 11:59 p.m.
Dates: Sept. 21st through Nov. 11th
Other Georgia Haunted Houses that are a small drive outside of metro area:
Folklore Atlanta in Acworth, Escape Woods in Powder Springs, Buford Corn Maze in Buford, and Camp Blood in Carrollton.
Are you brave enough to make it through one of Atlanta's haunted houses this year, Atlanta?